Cable car to Velika planina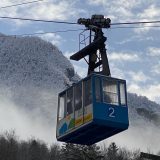 The beginnings of the cable car…
In 1958, the desire to build a cable car leading to Velika planina led Vlasto Kopač to create an urban development programme and a security plan of Velika planina for the company OLO Ljubljana, thus protecting the shepherding part of the mountain. Two years later, Kopač prepared the project for both cable car stations and for the Šimnovec hotel; the very next year, construction of the cable car leading to Velika planina began. The same year, a chairlift leading to Zeleni rob (the "Šimnovec" chairlift) was also inaugurated.
The year was 1964. On 13 September, the first cabin carrying passengers officially climbed all the way to Velika planina during the official inauguration.
Nowadays…
Today, the cable car brings passengers to Velika planina in a mere 5 minutes and can transfer up to 32 passengers at a time. In order to secure a sustainable development of tourism on Velika planina, the cable car is an important part of the story, since it provides an economical and the most ecological mode of transport, enabling a quick and safe manner to access the mountain.
The cable car taking passengers to Velika planina is one of the three cable cars in Slovenia. Every year, it takes around 60,000 passengers to the mountain. At the same time, the cable car to Velika planina is also the longest cable car in Europe without support beams.
In December of 2011, the engine room of the cable car was entirely replaced. Thus, the cable car leading to Velika planina became even safer and more efficient with a new engine room. In 2014, the company Velika planina d.o.o. was also one of the shortlisted finalists for the prestigious Werner von Siemens award evaluating the efficiency of the cable car after the existing engine room was replaced with a new one.
In early 2020, the main supporting ropes were replaced. We completed the three-month exchange project in early February.
The construction of the cable car brought the beauty of Velika planina closer to visitors
Thus, tourism started spreading at Velika planina, while it also became a popular skiing spot in the winter. Nowadays, Velika planina is a pearl among tourist destinations. In the summer, it comes alive with the arrival of shepherds and their animals; in the winter, you can indulge in a special event by skiing on a 2.4-kilometre track at night or snowshoeing on natural snow while admiring the idyllic snow-covered shepherd's huts.
Jump from the cable car – a daring adventure of the Dunking Devils
The acrobatic basketball team Dunking Devils chose the cable car leading to Velika planina as a backdrop to perform their most daring stunt:in the framework of "Fly Guys", a Facebook series consisting of 10 parts, they jumped from the highest point of the cable car. Free falling, they were dropping for nearly 5 seconds into a precipice of about 300 metres before being hovered high above the ground by the adrenaline swing.
Operating length of the suspension cable: 1,668 metres
Altitude overcome by the cable car: 857 metres
Upper station of the cable car: 1,412 metres of altitude
Lower station of the cable car: 555 metres of altitude
Suspension cable thickness: 49mm
Towing rope thickness: 22mm
Counter-rope thickness: 19mm
Speed of the cable car: 8m/s
In one hour, it can carry: 320 passengers
Supporting weight of the cable car: 2,825kg
Distance from the highest point of the cable car to the ground: 230m